Scrap Tire Recycling to Pyrolysis Oil System
About us:
Shangqiu Sihai Energy Technology Co., Ltd. is a collection of research and development, production, sales and after-sales services, which has rich experience in the field of waste management over 20 years.
Our company covers an area of 37,000 square meters and has an experienced professional technical team which includes 2 senior engineers with more than 20year's experience, 16 technicians with more than 10 year's experience.

We make waste rubber, waste plastics, waste tires and other waste pyrolysis refining fuel oil equipment as the company's traditional products. We have launched a new waste solid and waste liquid common combined unit based on the original, which solved the industry's one-time oil problems. Our equipments have high utilization of waste and can meet the many advanced countries at home and abroad environmental requirements. The produced oil can close to the national standard and be directly used in gasoline vehicles and diesel vehicles. Taking harmless, resource and comprehensive utilization treatment system of municipal solid waste as the main products is the first domestic.

Production Line Introduction:
1. Waste materials can be used in the Scrap Tire Recycling to Pyrolysis Oil System: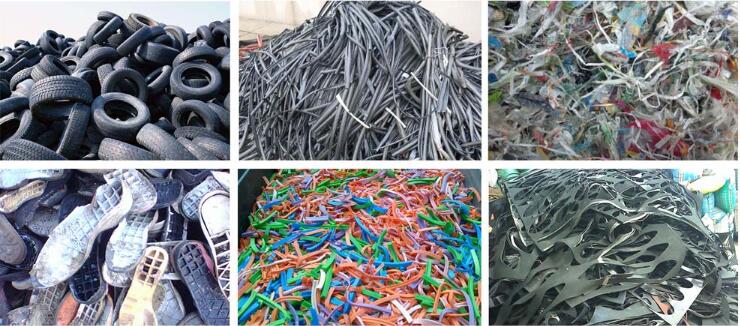 2. Working process of Scrap Tire Recycling to Pyrolysis Oil System:
First, the raw materials are put into the reactor, and then seal the feeding in door, later start the machine and the reactor will be rotating and heated by coal, natural gas, wood or electricity. When the temperature reaches the degree of 250 to 280, we will get the crude oil, the oil steam will be continuous produced until the temperature reaches 350-460°C; oil steam will flow through oil gas separator, light component will enter the condensers and meanwhile the heavy oil will be discharged automatically into in heavy oil tank. The liquefied part will be condensed as crude oil, and the part which cannot be liquefied will be transferred by the water seal back to the burning chamber to be reused as heating material.
3. End of Product from Scrap Tire Recycling to Pyrolysis Oil System:
NO.

Name

Percentage

Usage

1

Tyre oil

40%~45%

* can be sold directly as fuel.

* can be refine to diesel and gasoline by oil distillation plant

2

Carbon black

37%

* can be sold directly.

* can be refined by carbon black processing machine to make it finer (1500mesh finer).

*can be made into pellet by pellet machine

3

Steel wire

13%

*can be sold directly as steel or iron.

4

Waste gas

5%

* can be recycled to heat up the reactor
4. Installation: We will be in charge of arranging our engineer to go to your place to guide the installation and train your workers how to operate the Scrap Tire Recycling to Pyrolysis Oil System.
5. Land requirement: 300sq meters(10m*30m)
6. Exporting Experience:
| | |
| --- | --- |
| America: | Brazil, Canada, Colombia, USA, |
| Middle East: | Dubai, Iran, Jordan, Saudi Arabia, Turkey |
| Europe: | Albania , Bosnia and Herzegovina |
| Asia: | Afghanistan, India, Malaysia, Pakistan, Philippines, South Korea, Vietnam, Myanmar,Thailand |
| Africa: | Ghana, Mozambique, Zambia |