Waste Engine Oil Recycling By Vacuum Distillation Plant
About us:
We are a professional manufacturer specialized in producing waste tyre/plastic pyrolysis plant which can convert waste tyres/plastics/rubber/cable skin into crude tyre oil and vacuum distillation plant which can refine the crude oil/ waste engine oil/waste motor oil/ lube oil/ waste tyre/plastic oil into diesel for more than 8 years with ISO14001:2004 , ISO9001:2008 and CE certificate.
We have experiences in exporting to Jordan, USA, Canada, Colombia, India, Brazil, Afghanistan, Pakistan, Albania, Afghanistan, Bosnia and Herzegovina, Philippines, Dubai, Malaysia, Vietnam, South Korea, Mozambique, Myanmar and Ghana and so on, and have a good reputation in pyrolysis and distillation equipment market.

1. Production introduction:
waste engine oil recycling by vacuum distillation plant is the new technology which can refine the tire oil , plastic oil , waste engine oil, sludge, motor oil and so on into base oil(which can be made into diesel and gasoline after processed by our catalyst). The oil quality is better than the original normal pressure distillation technology, which show on purity ,transparence, lightness. This technology will do deodorization and destinke process to the raw material oil automatically by "dry type" vacuum pressure distillation method. With the vacuum distillation technology, the distillation temperature is considerably reduced, and the oil output will higher 5%-10% compared with original normal pressure distillation technology. It makes more profits to the enterprise virtually.
2. Materials can be used in the waste engine oil recycling by vacuum distillation plant:
a. Waste oil .example: waste diesel, waste oil residue etc.
b. tire/rubber oil
c. plastic oil
d. crude oil
e. waste engine oil
f. waste motor oil
g. waste lube oil
h. waste transformer oil
i. underground oil
3. Models of the waste engine oil recycling by vacuum distillation plant: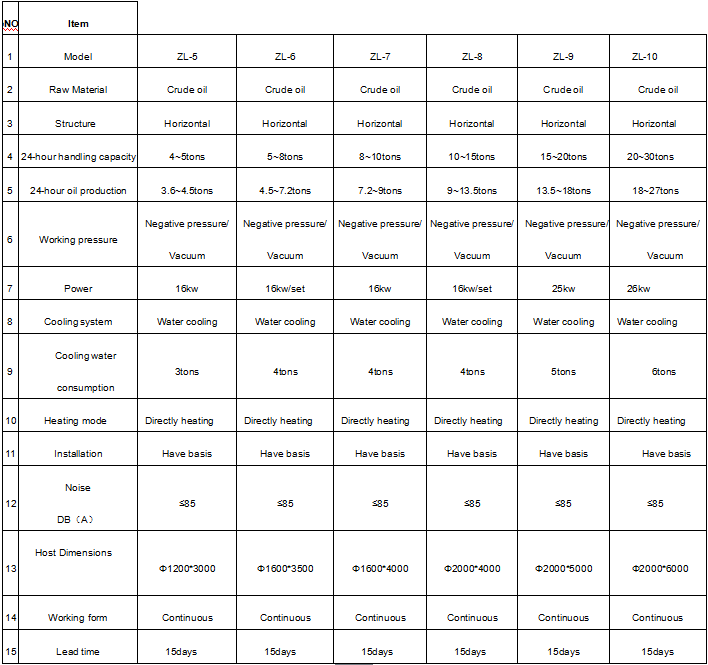 4. The comparison between the index of diesel, mixed oil after distillation and international standard 0# diesel:
| | | | |
| --- | --- | --- | --- |
| Item | Diesel (after distillation) | Mixed oil | international standard 0# diesel |
| oxidation stability | 2.0 | 1.5 | 2.5 |
| sulfur content % | 0.07 | 0.06 | 0.05 |
| ash content % | 0.035 | 0.03 | 0.02 |
| copper corrosion /rank | 1.1 | 1.1 | 1 |
| Water content% | mark | mark | mark |
| mechanical impurity | no | no | no |
| density | 0.87 | 0.85 | 0.82-0.86 |
| Solidifying point /℃ | -10 | -10 | 0 |
| flashing point (close)/℃ | 45 | 40 | 55 |
| Kinetic viscosity | 2.92 | 2.9 | 2.7-3.0 |
| Combustion value KJ/ kg | 9500 | 9200 | 8500 |
| cetane ratio | 43 | 40 | 46 |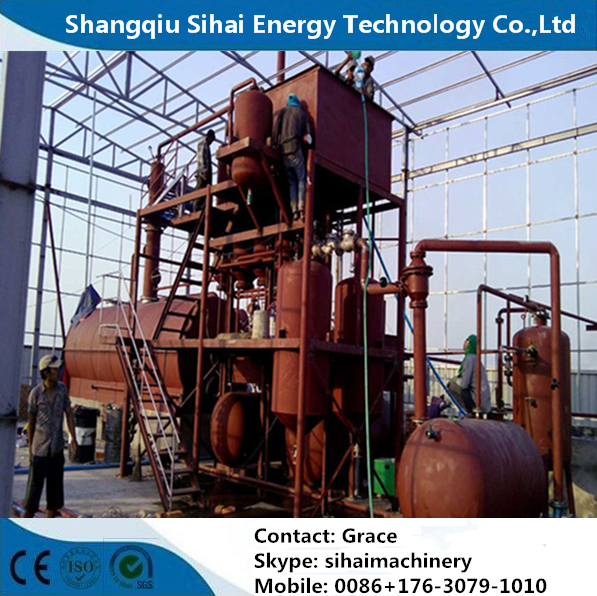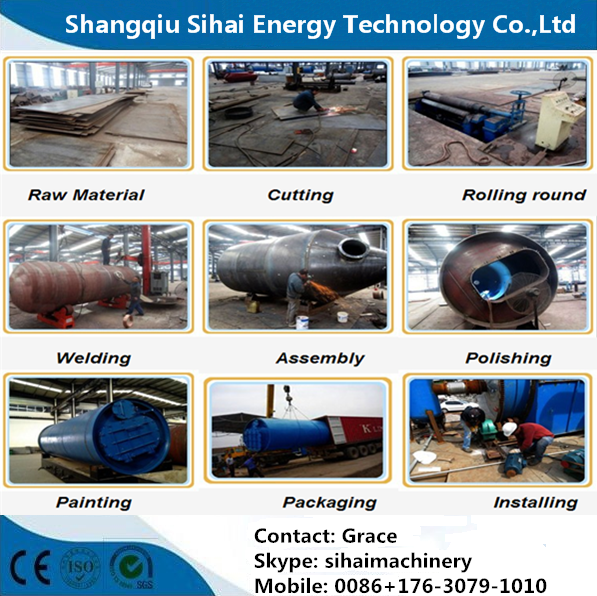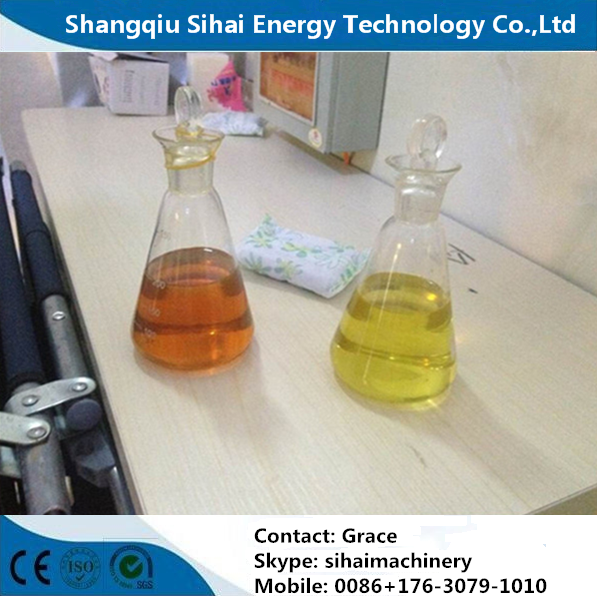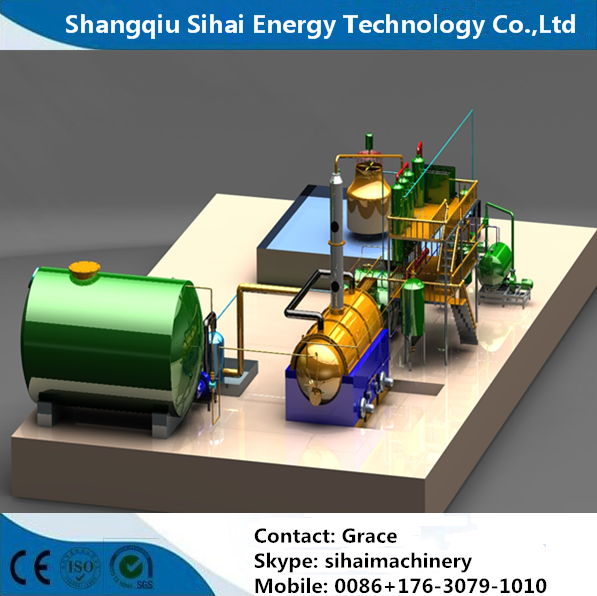 Группа Продуктов : Перегонка Отработанного Масла > Отработанное Моторное Масло Дистилляции Завод